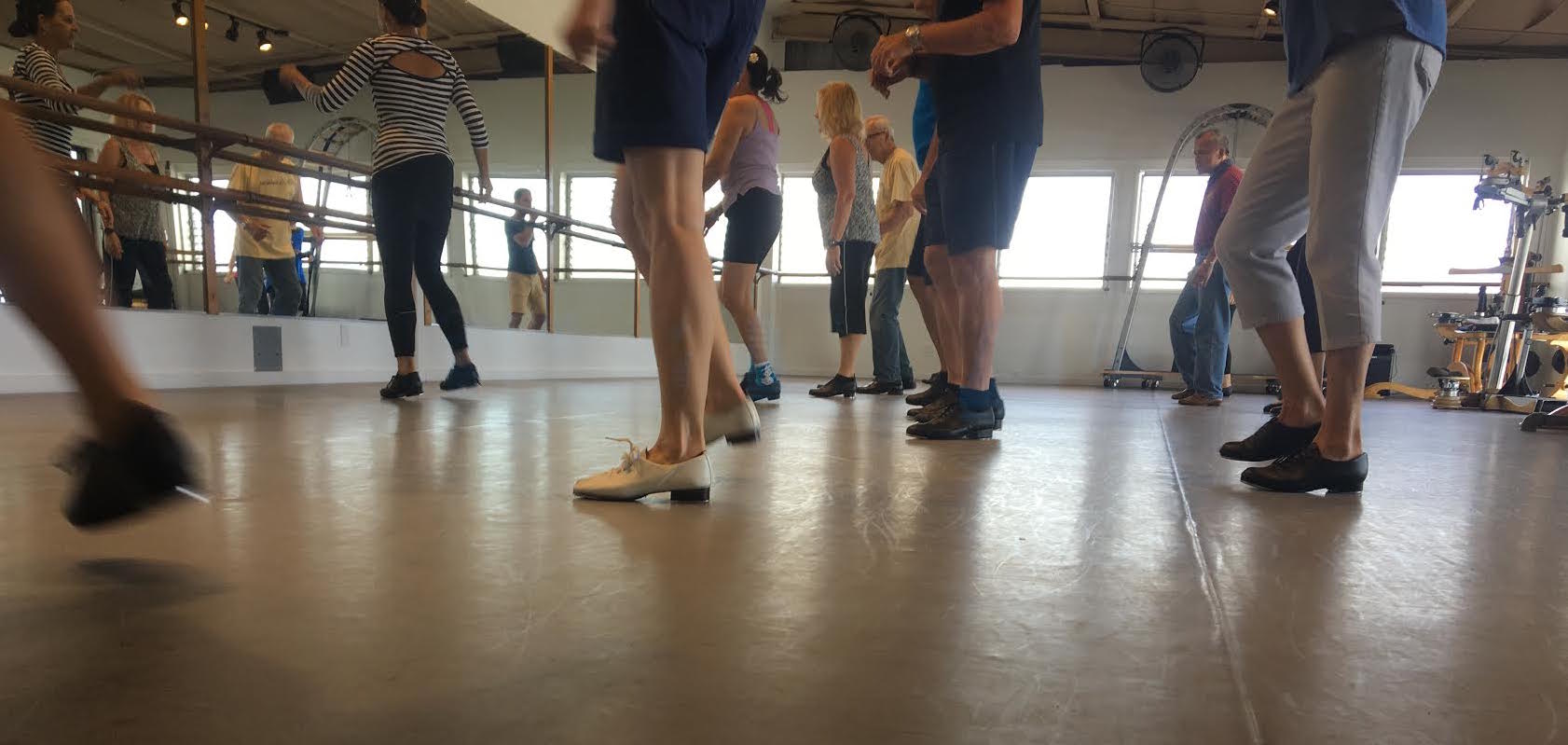 Here at West Hawaii Dance Theatre and Academy, we offer many different genres of dance for both adults and children. While many of our students are budding young dancers, instructor Juanita Finkenberg was in for a treat with the latest session of her Adult Tap Class. 
Q:  Did you have any expectations as to who might sign up for your class?
Juanita Finkenberg: "Word of mouth" is a powerful tool in recruiting dancers for the Adult Tap class. Al, the man who got it all started, suggested that he "had a few friends". And sure enough, he brought them! Al had a life long dream of learning to tap dance and we are making that happen.
Q: Were you surprised to see so many kupuna students enroll?
JF: I assumed we would have three to four Kupuna students after communicating with Al a few times on the phone and settling on a time to meet. We started the first class with 5 and have continued to add ever since. The men outnumber the women. That is not the norm in any dance class for sure. We started with tennis shoes or street shoes and now almost everyone has real tap shoes.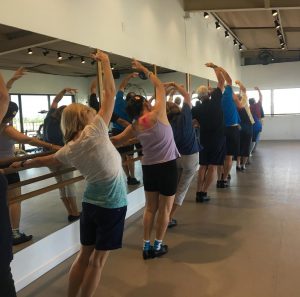 Q: Do you handle your instruction any differently with older students?
JF: In teaching adults one must consider several factors regarding the setting, class structure and amount of exercise. Extra attention is given to warm up and stretching. Balance and posture for maintaining good balance are addressed and in some cases modifications are made regarding jumping or hopping. This group is VERY active outside of tap class and many arrive after having played a round of golf, several sets of tennis or been to the pool swimming laps. And, they still have energy to dance for an hour. Amazing!
Q: What is the most surprising thing you've encountered with this group?
JF: Perhaps the most surprising thing I have learned from this class is that the dedication to learning is stronger than exhibited in the younger students. These Kupuna work harder, practice more and are more focused on accuracy and perfection than the younger students. Plus, they really have fun doing it. They bring great joy and excitement to every class.
Q: How can younger dancers benefit from taking a class with first time kupuna students? Vice versa?
JF: The younger students at WHDT always demonstrate respect for the older dancers who attend classes. I do believe that they could learn much from the Kupuna. Dedication, accuracy, persistence, joy for opportunity, working towards a new goal, adapting when necessary but never giving up and humility are all evident with this Kupuna group and would be an asset to the younger dancers. The Kupuna would love to "share the floor" with the younger tap dancers who would bring excitement, skill, fresh energy and advanced talent. It is my hope that we offer a studio performance and bring these groups together for that performance. I tell the Kupuna, "I'm taking you on the road"…and I truly mean that. We are working on two tap dance numbers that will hopefully be performed at some point. The younger tap dancers are working on three numbers right now so we would have a nice short tap program once those numbers are completed. Of course, I need to get costumes too. That is part of the fun.
Q: For those with no dance experience, who may be hesitant to join a dance class, what would you recommend?
JF: It is important in life to work through any challenge. Tap dance looks very easy when performed by professionals but like many skills, it takes time and devotion. The joy comes when one is able to make progress. Challenging the mind and the body at the same time and doing so with great music and supportive friends is the best way to manage a new challenge. The Kupuna class members have surprised me in how quickly they are making progress. They are picking up the movement faster than the young students. They are focused on the moment and the skill. This class coming together is one of those serendipitous events in life. Everything lined up to make it all happen and it is bringing joy to many. How great is that!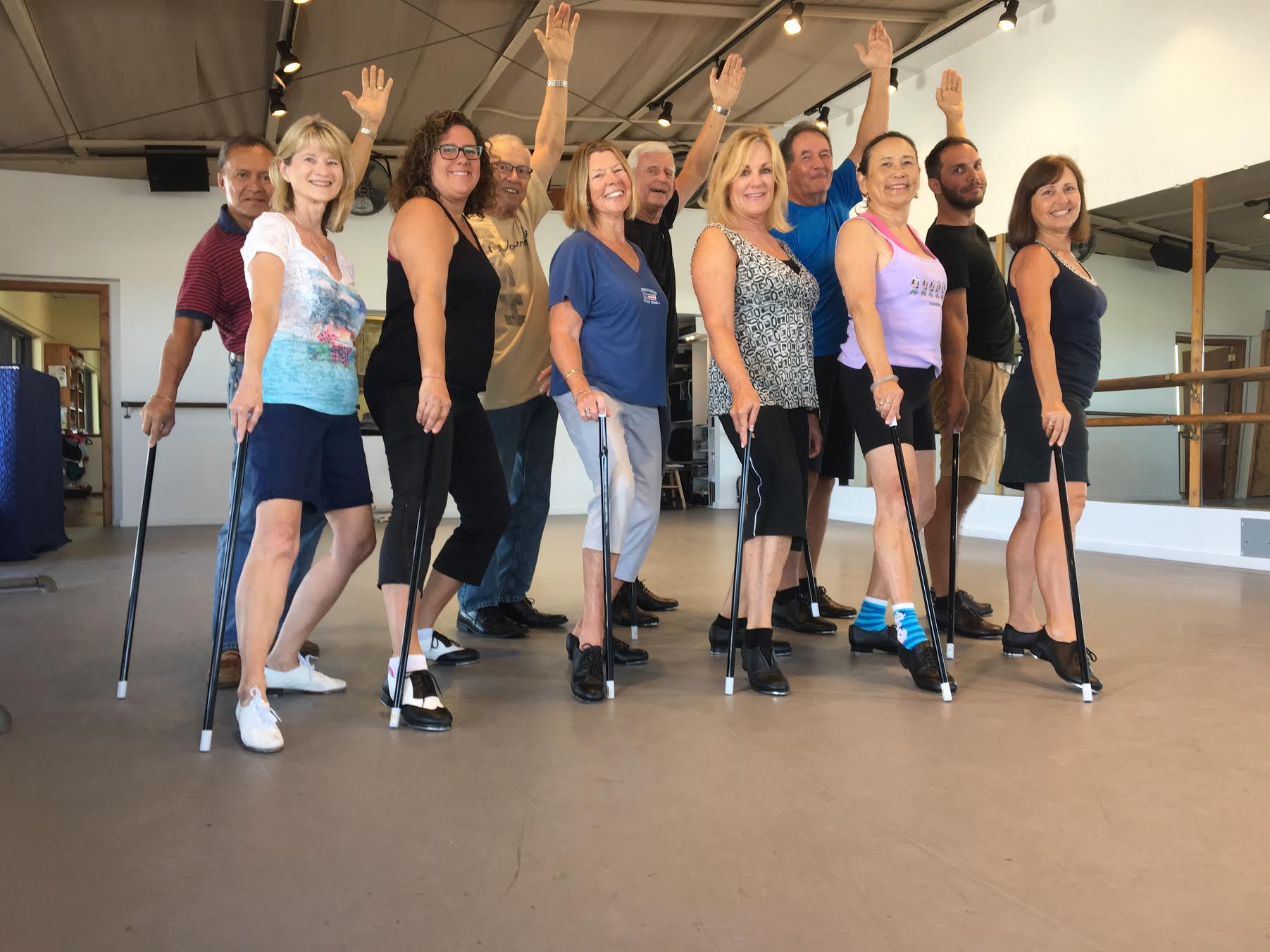 You can read more about Instructor Juanita Finkenberg here, or come to one of her adult tap classes on Friday mornings at 8:45am.
WHDTA is also offering a special Tap Class on Saturday, February 25th with Pauline Hagino. Click here to find out more!