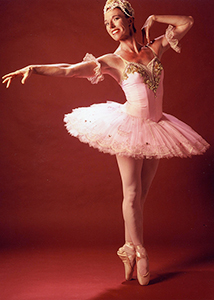 FOUNDER & ARTISTIC DIRECTOR
Virginia Holte is the Founder and Artistic Director of the West Hawaii Dance Theatre and Guest Instructor / Choreographer for The Maui Academy of Performing Arts. A Graduate of the Academy of the Washington Ballet under the late Mary Day, Ms. Holte enjoyed a long professional dance career with Indianapolis Ballet Theatre, Chicago Ballet, Washington Ballet and various guest appearances with Ballet Internationale, New Jersey Ballet, and Indiana Ballet Theatre N.W. A Third Series practitioner of Ashtanga Yoga, certified in the Pilates Method, Mat and Equipment from the Physical Mind Institute, Ms. Holte is an International Certified GYROKINESIS® and GYROTONIC® Specialized Master Trainer. She has been sharing her love of ballet and movement with the Hawaii community since 1986.
Choreographer, teacher and dancer, Midori Satoh was born and raised in Tokyo, Japan. She received a Bachelor of Fine Arts in Dance from New York University, Tisch School of the Arts in 1993. Midori toured extensively with Shapiro & Smith Dance Company and performed in Italy, Germany, Mexico, Canada, Uzbekistan, Singapore, Malaysia, and the U.S.A. She has performed in major festivals and venues including the Joyce Theater, Dance Theater Workshop, St. Mark's DanSpace Project, PS 122, Festival di Milano, Teatro de Danza, and Recklinghausen RuhrFestSpiele. Funded by the Japan Arts Culture Foundation, Midori co-founded New Wind Dance Project which performed at the Kai International Dance Festival in Tokyo.  She has choreographed ballet, contemporary, musical theatre, and competition pieces which were performed in New York City, Tokyo, and Hawaii. Midori began her teaching career as a senior in high school and she has enjoyed teaching at West Hawaii Dance Academy since 2000. She resides in Kailua Kona with her husband and two children.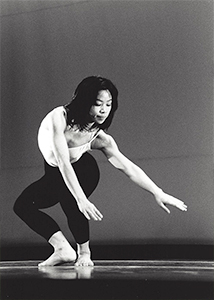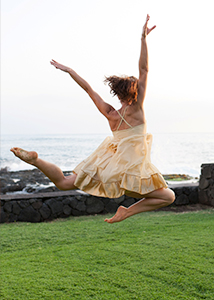 Megan Chapman has been teaching dance since 1987 and began her journey with West Hawaii Dance Theatre and Academy in 1999. Originally from Boston, she studied classical ballet, jazz, and modern with The Franklin School for the Performing Arts, and ballet with The Walnut Hill School and The Boston Ballet. She attended Ithaca College in New York as a Dance Minor. From there, she explored other areas of artistry and received a degree in Fashion Design where she later worked professionally as a costume and freelance fashion designer. Megan has performed, choreographed, and costumed numerous works including an original ballet of Peter and the Wolf. To compliment her dance experience, she holds certifications in Group Fitness and Pilates. Megan has been a guest choreographer for YWAM's (Youth with a Mission) School of Performing Arts as well as a guest instructor and choreographer for YWAM's School of Dance Studies in Kona. Currently, she is a guest artist with Saving Grace Dance Ensemble in New Hampshire and occasionally leads dance ministry at Living Stones Church in Kona. In addition, Megan is a mixed media artist and the author of an adventure series geared for youth and families. www.meganjoychapman.com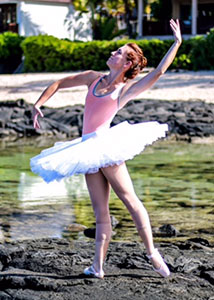 Jenna Ojeda grew up studying ballet and jazz at West Hawaii Dance Theatre. Along with intensive workshops each summer, she also studied at Ballet Hawaii and 24/7 Dance Studio on Oahu. After graduating high school, Jenna moved to San Diego where she received a degree in dance. After college, she studied at The Academy of Performing Arts in San Diego as well as EDGE studio in Los Angeles. Jenna has now returned full circle to teach at the studio where she was taught.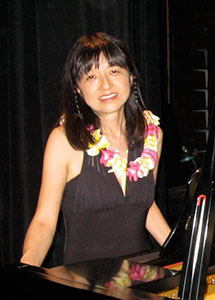 Megumi Kopp began her piano studies at the age of 5 under Yoko Ogusu for 13 years in Tokyo, Japan. She continued her studies under Gates Wray, a student of Isabella Vengerova and Vladimir Horowitz, for three years while living in New Jersey. Kopp holds a B.S. degree from Creighton University in Omaha, Neb. After moving to Kailua-Kona in 1999, and with encouragement from her friend and West Hawaii Dance Academy co-director Midori Satoh, Kopp began accompanying ballet class at West Hawaii Dance Academy in 2005. With the assistance and guidance of West Hawaii Dance Theatre's Artistic Director, Virginia Holte, Megumi has played and arranged music for numerous performances, including The Nutcracker, Les Sylphide, Don Quixote, Swan Lake, Coppelia, Alice in Wonderland, The Little Mermaid and The Wizard of Oz. Besides accompanying the dancers at West Hawaii Dance Academy, Megumi teaches piano to both children and adults.
Megumi's talented work is available on several CD's, including WHDT performances Alice in Wonderland Ballet, The Little Mermaid Ballet, and The Wizard of Oz Ballet, and be purchased here.
GUEST INSTRUCTORS
WHDTA has a long history of having Guest Instructors and Guest Dancer Residencies. This is a great opportunity to further our students' exposure to the world of dance as well as expanding their dance education.
Some of our Guest Instructors have included…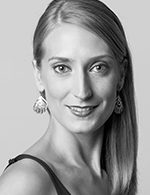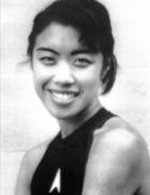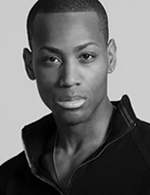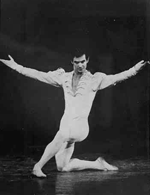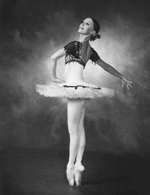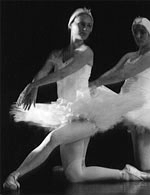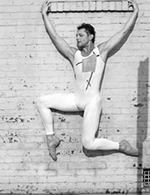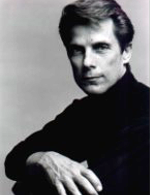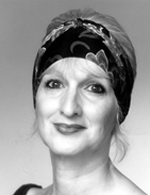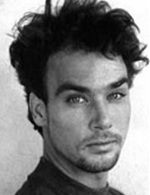 West Hawaii Dance Theatre is a 501(c)(3) Non-Profit Educational Arts Organization and is sponsored in part by the Hawaii State Foundation on Culture & the Arts, Hawaii Community Foundation, Atherton Family Foundation, Hawaii Tug & Barge, Vance Wall Foundation, Ironman Foundation, Macy's and our local businesses and families.